If there's one thing we've determined in this day and age, it's that luxury watches have a solid fan base around the world. With the number of luxury watch owners growing each day, the demand and interest in them has seen a remarkable increase in the past decade.
According to the Federation of the Swiss Watch Industry, 2020 saw a noticeable 21.8% drop in sales in brick-and-mortar stores. However, the secondary market, as per Deloitte's findings, has grown with the increasing interest in pre-owned watches. Their findings showed that there's a growing demand for pre-owned watches right now, as investing in one would be the most cost-effective way to buy quality pieces. This, in turn, has led many consumers to buy their watches from online marketplaces. However, the switch to online shopping has highlighted a pre-existing and problematic side of the luxury watch industry, and that's the dramatic rise of counterfeit watches.
The problematic counterfeit watch industry
Counterfeit items of all sorts have found their way all around the globe, due to the increase in demand and interest. While many luxury watch owners are very selective about where they buy their watches, and are very determined to ensure their authenticity, not all of them seem to be on the same page. The need to impress and keep up with the times has led many people to take short-cuts and unfortunately end up with a counterfeit watch or a watch with counterfeit parts.
Smart Protection conducted research on the topic with some alarming results. It appeared that 50.36% of those who purchased counterfeit watches had done so without realizing it. So it comes as no surprise that their findings also showed that 48% of those asked believe the watches they buy in official marketplaces to be genuine. They don't consider that some counterfeits may have found their way on the site, especially when the sellers may vary.
One of the biggest problems with the counterfeit watch industry, is making customers lose faith in the original brands. In fact, when people buy a luxury watch without realizing it's a counterfeit, they assume whatever fault it comes with is a reflection on the original brand. As such, they end up losing faith in the brand as a whole without checking to realize the mistake could have been avoided.
How do you avoid buying a counterfeit luxury watch?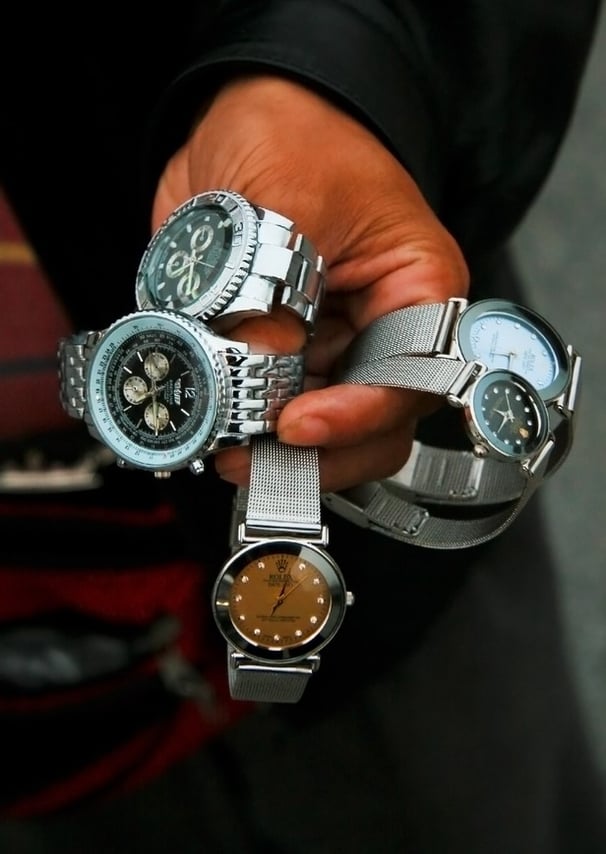 Yes, buying online is easier, particularly since you can do it from the luxury of your own home. Sadly, the risks that come with online platforms are high. Each year, counterfeit items become more and more convincing. With a lot of services advertising products they claim to be genuine, it's easy to get lost in it all. Especially since people have started going the online route more and more due to the current situation around the world.
Some brands and online platforms have even made initiatives to try and counter this problem. From authentication passports to online verification processes, various measures have been taken. For example, Omega not only sends out certificates of authenticity with its watches, it also sends out an 'Extract from the Archives'. This guarantees the watch enthusiasts feel like they're getting the special treatment by learning more about the watch's production history. Though, it needs to be said that it doesn't replace the certificate of authenticity, it goes along with it as an added bonus.
But how do you avoid falling into the trap of purchasing a counterfeit Rolex? Even though purchasing doesn't always come with a proper guarantee, you can take your own steps in helping yourself better the odds.
1. Learn the differences between real and fake watches
It might seem cliché, but educating yourself on real and fake watches from a particular brand or model as well as how to learn the differences between the material inside might be of great help. With how far and wide Google goes, there are probably tutorials based on the specific model you hope to buy. For example, most cheap Rolex counterfeits are gold-plated rather than have gold casings. Or the counterfeit Rolex has a plastic spacer on the inside, a dead giveaway since a genuine Rolex wouldn't use plastic. It is certainly something you can learn to distinguish with time.
2. Do a background check before making any purchase
It goes without saying, but try not to buy your watches from eCommerce sites that sell everything. Focus on an online platform that is specialized, with sound reviews specializing in luxury watches. Look into the site to ensure it's genuine with great credentials.
3. Authenticate your watch
If it's possible to get someone to authenticate the watch before you buy it, you must do it. Or simply buy watches from a website that offers certificates of authenticity. There are various online luxury watch platforms that offer this service as part of the purchase process to ensure the quality of their service and the watches they sell. Going that route can be your safest bet when placing an online order.
How do you authenticate your luxury watch?
At times, it might be difficult to determine all the small nuances that differentiate between an authentic, and rather expensive luxury watch, and that of a convincing counterfeit. In that case, the best thing to do is to enlist the help of an expert.
Since the industry is rather exclusive and high-end, TP Labs, Dubai's only independent service centre with certified watchmakers, helps you in avoiding a bad luxury watch deal. Whether you want to check before buying the watch that it's authentic or you want to prove your authority to a potential buyer, our authentication service is quite vital. Not only do places like TP Labs repair, service and help you maintain the quality of your watches, they also authenticate them. What that entails is that the certified technicians:
conduct a full exam,
review any paperwork that came with the watch,
confirm that the parts and mechanisms are original, and
corroborate materials to the original design and manufacture.
At the end of the examination, TP Labs offers you an authentication certificate to guarantee the watch is original and in excellent condition.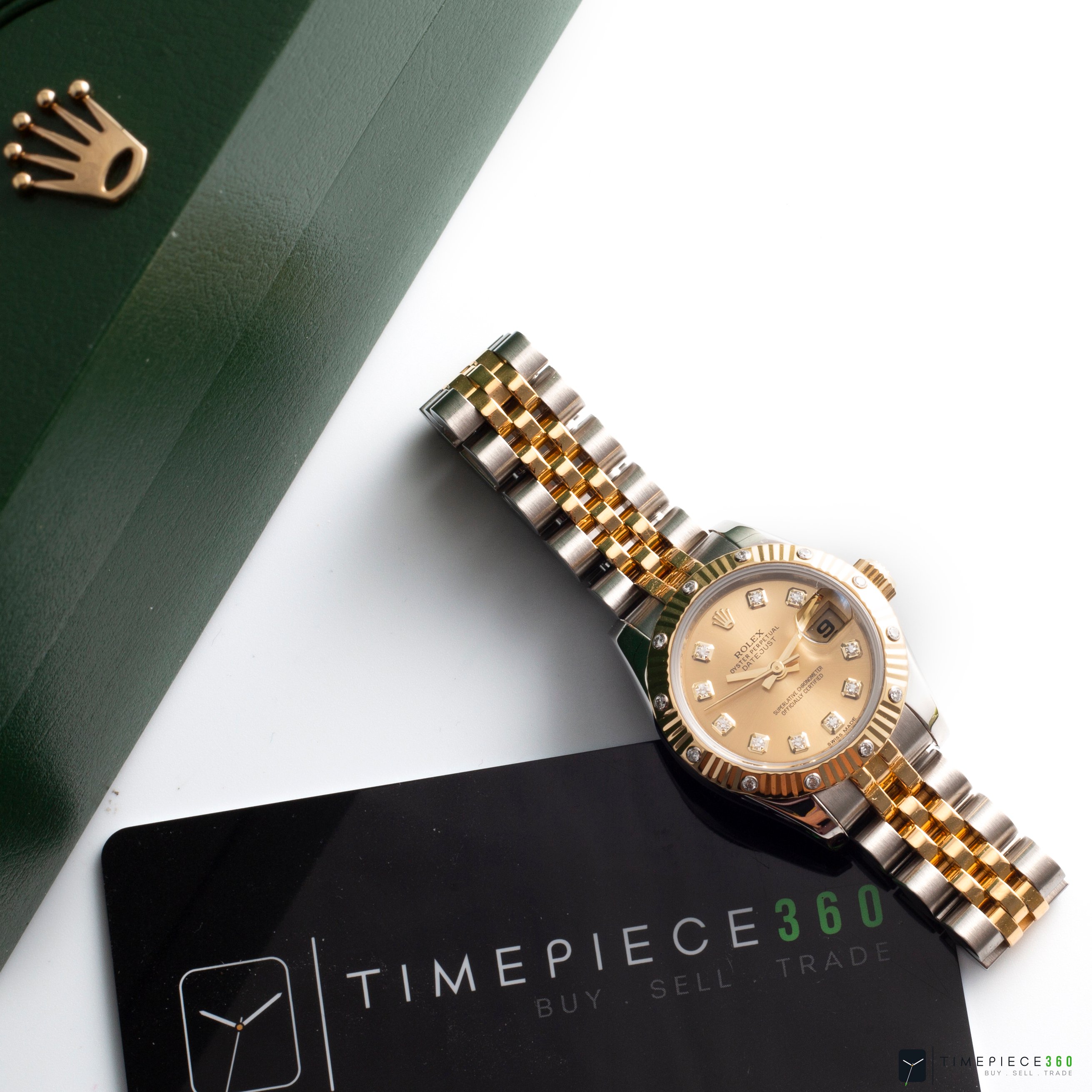 If you're looking to authenticate your watch, head on to this link and make an appointment with TP Labs and one of our personal assistants will get in touch with you shortly.
Conclusion
Counterfeit watches are posing a problem in the luxury watch industry. It affects everyone, not just the big brands losing money and credibility. People can invest large sums of money on a luxury watch, only to realize they'd been scammed and there's no way to catch the culprit.
The industry is growing, and with it, we need to grow in knowledge and how to protect ourselves from fraudulent products. We need to take precautions and learn to authenticate our luxury watches.
This entry was posted
on July 08, 2021
by Timepiece360