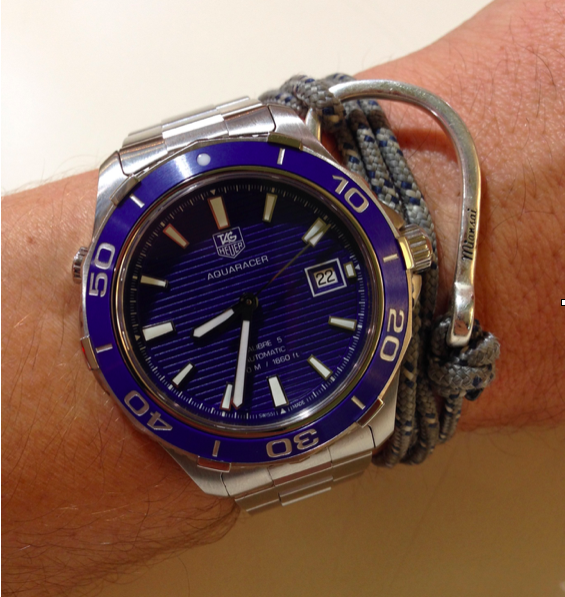 How Martin Gergely developed an interest in luxury watches
My first step into the luxury watch world was when I moved to Abu Dhabi. I had always admired watches, I just didn't know too much about them. As a newbie, I really only knew three watch brands: Rolex (of course), Omega (thank you James Bond films), and Tag Heuer (I always remembered the old Formula 1 advertisements). I knew I wanted a tool watch, a diver in specific, with a unidirectional rotating bezel. I preferred a blue dial and definitely wanted a helium escape valve (like I would ever use it!).
Searching for the perfect luxury watch
Anyways, I set out to find something from one of these three brands. I visited Rolex first, and quickly dismissed the idea, as I was definitely not ready to drop $10k on a watch, and the only blue diver they make was solid white gold. So, I visited Omega and Tag Heuer. They both had similar models (Omega Seamaster 300M, and the Tag Aquaracer, both in blue). Both were exactly what I was looking for and felt to be about the same quality, yet the Omega was nearly twice the price!
The benefits of a certified, pre-owned luxury watch
I am a bit of a miser, and a bargain hunter at heart, and thought to myself "why would I pay retail price"? So, I started Googling around to see if there were any deals to be had… The pre-owned market in Dubai is rather limited (just one or two shops and online websites), but I still wanted to try my chance there. Somehow, out of sheer luck, the first website I visited happened to have the exact watch I wanted (less than one year old, with full box and papers, and listed at about half of the price the authorized dealer was asking). They even allowed me to come and see it in person. This was a huge relief for me as a first-time pre-owned watch buyer. I was very hesitant about online sales, after reading tons of horror stories of people buying fakes or getting scammed. After staring at the Tag in person for a few hours, I decided to finally pull the trigger. And that's how I bought myself a Tag Heuer Aquaracer 500m.

Naturally, this watch is long gone now (sold and upgraded numerous times over), but it taught me an important lesson in watch buying: buy from someone you trust. It has been about three years since that first watch purchase, and still to this day I browse the pre-owned website where I bought the Tag from almost daily to see what new stock they get in! I have even referred countless friends and family members to them over the years as well. The pre-owned market can be a huge gamble, filled with lies and deceit, however it has enormous rewards too (e.g.: Half off MSRP? Discontinued or hard to find models? Yes, please). Therefore, all I can really say is research your seller thoroughly, as you may not be as lucky as I was…
This Article was written by Marton Gergely @mingoesbueno
Looking to buy your own certified luxury timepiece? You've come to the right place! Timepiece360 offers a wide variety of highly sought after pre-owned luxury watches. All of our watches are in excellent condition and come fully certified. Take a look at our collection to find the perfect timepiece to suit your taste and budget.
This entry was posted
on March 12, 2018
by Timepiece360