When it comes to purchasing a pre-owned watch, there are two schools of thought.
You can buy from an authorized dealer with potential wait time, or online for instant gratification with possible deals or even a premium
.
I, Fayssal K., am from the school of building relationships with dealers whenever possible, which is rare
.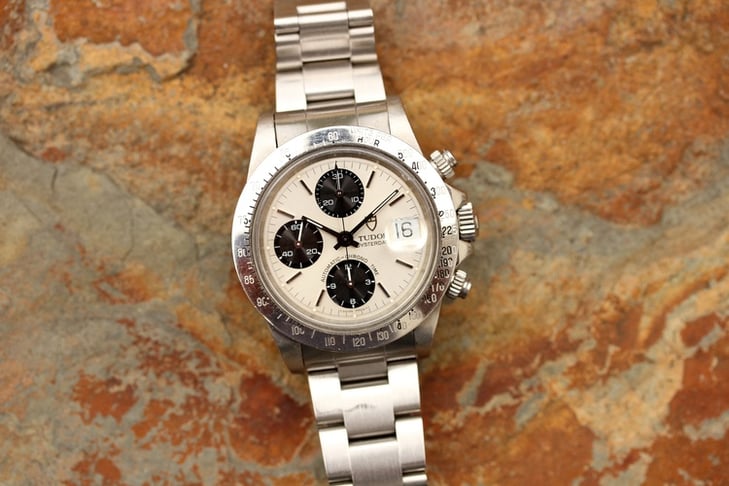 Only, what happens when you want a limited, hard to get, or discontinued watch? Well, your sole option would be to visit an online marketplace. As I started my collection, one of the pieces I fell in love with was a vintage Big Block Tudor. A watch that hasn't made its way to Dubai since.
Naturally
, the only way to get my hands on it was through online research.
While online shopping can lack warm greetings, handshakes and real-life examination of watches that brick and mortar shops
are known
for, they still have redeeming qualities
.
You can increase your trust in a place by reading reviews, checking the number of items on their website, and trying their customer service
. Scoring my Big Block
Tudor
had been a rush, filling me with both suspense and excitement.
I spent hours browsing, researching, reading, and scouring YouTube to find the right references
.
Then, even more hours browsing online stores, until I found one
reasonably
priced watch and went for it
.
This Big Block
Tudor
has been, and still is, one of the dearest pieces to my heart. Even after a limited edition
Seiko
, a 1970's
Tissot
, a 2000's Sinn Pilot, and a few more found their way to my collection. Purchasing your watches online has its own share of benefits.
Not only can you find watches you may have never been able to get elsewhere, you can also build a relationship with the seller,
just
like you would have done with a brick and mortar shop
.
But here are some basic rules to follow when purchasing anything online:
When it feels too good to be true, it

probably

is

Buy from trusted sites

Never wire a transfer on a first transaction

Search for the watches at a dealer's shop first

If you can't be there

physically

, a video call is the modern-day alternative
A few online sources will also allow you to come and see the watches. That is the best-case scenario, one that just happens to be available in the Middle East thanks to Timepiece360.
This entry was posted
on March 06, 2018
by Fayssal K